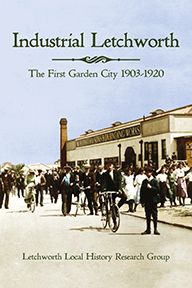 The (then) Letchworth Local History Group's exhibition in October 2015 titled Letchworth – England's first new industrial town? aimed to highlight Letchworth as, primarily, an industrial experiment. The Group's first project was a study of the 1911 Census data for the town; we envisage building on this when the 1921 data becomes available, as it will offer a fascinating picture of the first 18 years of Letchworth. 
Visitors to the 2015 exhibition contributed to our knowledge and the obvious next step was to produce a well-illustrated book, aimed at the general reader, whilst being thoroughly authoritative.
We felt that the architecture and social history of Letchworth had been well covered by earlier writers but that the roles of important people besides Ebenezer Howard had been neglected. This book therefore celebrates the investors, philanthropists, surveyors, engineers, manufacturers, businessowners and retailers who had such faith in the garden city ideal.
The wonderful Garden City Collection is the source of most of the illustrations, but you will also find many images that have not previously been seen. We regard it as a true garden city collaboration! Please buy a copy from local or online booksellers, and tell your friends and colleagues about it. The royalties earned will enable future local history projects to enhance our understanding of Letchworth's place in world history.